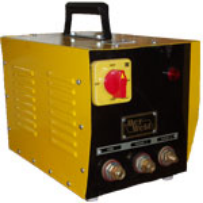 Features
Insulated upside is convenient for other device installation. Avoid short circuit happen during installing welding fixture.
Epoxy-resin filled transformer ensured the welding quality.
Water flow display is installed easy for checking the cooling water condition.
Vertical type pressure mechanism has the advantage such as high speed, reduced the gas consumable, good following performance, low noise and long life.
Pressure head up and down speed can be adjusted steplessly. It reduced the impact to the work piece and reduced noise also.
Easy to switch the travel of the pressure mechanism.
Integrated CPU controller. It has the voltage and current compensation function while the input voltage fluctuated. Ensure the stable welding current. Multiple welding parameters can be stored and easy change. It has failure warning function.
Operate friendly and easy maintenance.
Single Phase AC Spot Welder
Single phase AC Spot/Projection Welder
DN-40
DN-63
DN-80
DN-100
DTN-40
DTN-63
DTN-80
DTN-100
DTN-160
DTN-200
Rated power
kVA
40
63
80
100
40
63
80
100
160
200
Rated voltage
V
415
Rated duty cycle
%
50
Frequency
Hz
50/60
Maximum short current (duty cycle)
kA
14 (12.3%)
20 (8.6%)
23 (8.1%)
33 (4.1%)
18 (7.4%)
24 (6%)
28 (5.5%)
33 (3.1%)
36 (7.9%)
42 (7.5%)
Continuous output current
kA
4.9
5.9
6.5
6.7
4.9
5.9
6.5
6.7
10.1
11.5
Maximum pressure
N
5200
12000
5200
12000
18000
Open width X depth(spot)(projection)
mm
200X600
200X425
170X400
165X425
200X425
mm
170X300
165X300
200X300
Electrode travel
mm
20/60
20/80
20/60
20/80
Water flow
L/mm
6
7
10
6
7
10
12
Weld capacity (MS)
mm
3+3
4+4
3+3
4+4
5+5
6+6
Weight
Kg
270
450
450
500
270
450
450
500
550
620
Technical specification of Single Phase AC Spot