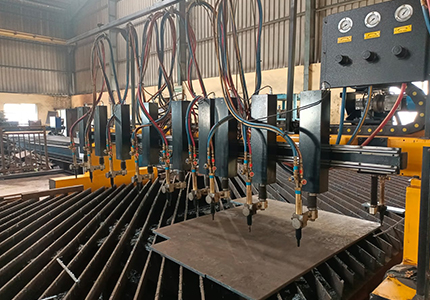 Multi Torch model wherein one side of the gantry has CNC controller gas and Plasma systems for profile cutting application and other side of the gantry has multi-torch oxy fuel cutting torches for strip cutting.
Features
Combination of CNC based profile cutting and multi-torch strip cutting processes.
Easy one time setting for strip cutting.
Uniform heat input due to multi-torch mechanism ensure that the plates do not warp while cutting.
A highly robust and rigid mechanical system.
Longitudinal axis motion over machined railway rails.
Low on maintenance.
Easy to use.
Designed for 24×7 working with minimum downtime.
Process
Gas Cutting, Plasma Cutting
Effective cutting width
2.5 m to 5 m
Cutting Length
3 m to 24 m
Positioning speed
0 – 12,000 mm/min
Cutting thickness
1.5 mm – 20 mm MS by plasma cutting
1 mm – 18 mm SS by plasma cutting
6 mm – 150 mm MS by gas cutting
Technical specification of Multi Torch CNC Plate Cutting Machine