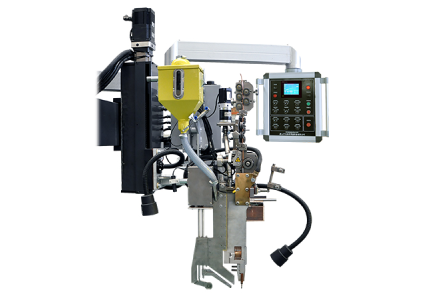 Features
Oscillating tip, left-mid-right three position welding position, oscillating assembly is stable and reliable.
Chromium Zirconium Copper contact tip, alloy copper material torch soft connection with good conductive, those can increase life span.
Torch body is made of stainless steel and plasma paint technology.
Automatic flux feeding and recovery and sensors to sense sidewall variations.
| Specification | |
| --- | --- |
| Max. weld thickness | 400mm |
| Groove angle | 1°~2° |
| Groove width | 18-30mm(18-22mm at bottom)1°~2° |
| Pass No. per layer | Two passes(One pass at first layer) |
| Wire diameter | 3.0/4.0mm |
| Wire feed speed | 60~180mm/min |
| Deposition speed | 5~10kg/h |
| Torch oscillating rangeGroove width | ≤±3.5° |
| Torch oscillating precision | ≤±0.5° |
| Horizontal tracking precision | ≤±0.2mm |
| Vertical tracking precision | ≤±0.5mm |
| Cross slide strokes | 300*400mm |
| Highest heated temperature | 350℃ |
| Min. diameter for internal welding | 1500mm |
Technical specification of Narrow Gap MAG