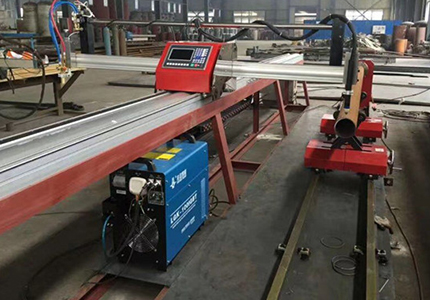 Features
The highly robust and rigid mechanical structure.
Excellent cut quality and lower operating costs.
Advanced control system with the touch-screen interface.
Air-conditioned control panel ensures high reliability of electronics even in harsh workshop conditions.
Easy switchover on controller between pipe and plate cutting.
Useful for medium to heavy-duty cutting.
Designed for 24×7 working with minimum down-time.
Easy to operate GUI ensures less setup time and quicker turnaround time.
Marking options such as punch marking, power marking and plasma marking available.
Various edge-preparation facilities available in gas and plasma cutting.
The modular design ensures machine length can be increased in the future.
Longitudinal axis motion is guided by heavy-duty machine railway rails.
Self-centering jaws enable quick setup time.
Manual, pneumatic or hydraulic clamping based on the pipe diameter and weight.
Profile cutting on pipes through the synchronized rotary motion of chuck and motion.
Process
Gas Cutting, Plasma Cutting
Effective cutting width
1.5 m to 3 m
Effective cutting length
3 m to 20 m
Positioning speed
0 – 10,000 mm/min
Cutting thickness
1.5 mm – 30 mm MS by plasma cutting
1 mm – 28 mm SS by plasma cutting
6 mm – 150 mm MS by gas cutting
Technical specification of CNC Plasma Plate & Pipe Cutting Machine