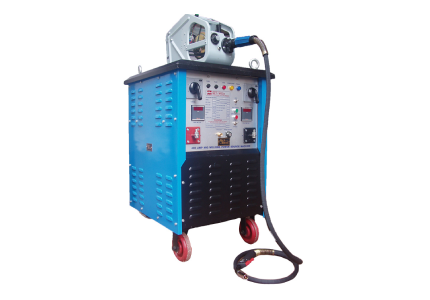 Features
MET-WELD make Co2 MIG (MAG) provides faster production in heavy and light automobile industries, heavy pipe line, vessels, tanks and structure fabrication. The weld ripple-free, no spatter, easy cleaning and no need to grind minimizes labour cost and speedy production. The process can use for M.S., S.S. and Aluminium welding and also by Flux Core Wires.
Advantages
To be used for minimum sheet thickness of 0.6mmHigh fusing capacity Suitable for solid wire as well as flux cored wire Concentrated heat application Low deformation of welded parts.
Equipment Consists Of
Power Source, Wire Feeder – 2/4 Roll drive, Torch, Flow meter, Pressure Regulator.
Power Source
Constant voltage / Current Power source Thyristorised / Trans ducting Controlled Fitted with Amps and Voltmeter.
Welding Head(Wire feeder)
Two / Four Rollers driven alloy steel hardened. Gas Pre/ post flow to eliminate contamination of the weld. Light weight. Quick change over spool low down time. Thyristorised D.C. driven. Permanent magnet motor Wire inching and gas checking.
Torch
Heavy duty, Light weight, Flexible cable, Gas / Water cooled torch. 3 Mtrs. Long cable.
PARAMETERS
MP-250
MP-400
MP-600
Supply Voltage
380-440V
380-440V
380-440V
Phase
3
3
3
Frequency
50 Hz
50 Hz
50 Hz
Open Circuit Voltage
18-38V
18-52V
18-56V
Welding Current Range
50-250A
70-400A
100-600A
Welding Current @60% Duty Cycle
250 A
400 A
600 A
Welding Current @100% Duty Cycle
180 A
315 A
480 A
KVA Rating @60% Duty Cycle
8.8 KVA
22.5 KVA
35 KVA
KVA Rating @100% Duty Cycle
6.5 KVA
17 KVA
27 KVA
Insulation Class
F
F
F
Cable Section mm2
16
22
35
Permissible Wire Dia (mm)
0.8-1.2
0.8-1.6
0.8-2.4
Type of Cooling
Forced Air
Forced Air
Forced Air
Type of Winding
Copper
Copper
Copper
Dimension (mm)
770x440x660
830x490x730
880x540x730
Weight (Kg)
105
200
840
WIRE FEEDER
Drive System
2-Roll
4-Roll
4-Roll
Wire Drive Motor
Permanent Magnet DC Motor 42 Volt / 60 Watt
Wire Feed Speed
1.2 – 18 Mtr / min
Technical specification of Co2 MIG / MAG Machine