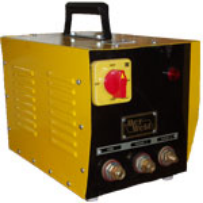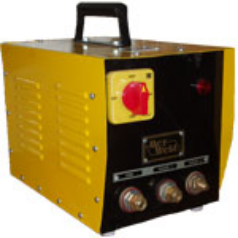 Features
Insulated upside is convenient for other device installation. Avoid short circuit happen during installing welding fixture.
Use electro-pneumatic proportional valve. Gas pressure can be set quickly. It is controlled by controller. Easily program, store and recall the welding current, time and pressure.
DC output reduced the impact of welding current caused by secondary side induction. The power factor is almost 1. Output welding current can be fully constant and no zero crossing. Saved the energy, reduced production cost.
Parallel cooling water route is used in this machine. Every route can be adjusted and displayed separately. Warning function is working through water flow detector.
Pressure head up and down speed can be adjusted continuously. It reduced the impact to the work piece and reduced noise also.
Vertical type pressure mechanism has good following performance, low noise and long life.
Three phase power input ensured the balance among 3 phases. Based on 1000Hz invert frequency, the current control can be millisecond level, effectively increase the welding quality.
MODEL ITEM
Single phase AC Spot/Projection Welder
MF Inverter DC Spot/Projection Welder
DBZ-50B
DBZ-80B
DBZ-160B
DTBZ-50B
DTBZ-80B
DTBZ-160B
DTBZ-320B
DTBZ-480B
Rated power
kVA
50
80
160
50
80
160
320
480
Rated voltage
V
415 / 3Φ
415 / 3Φ
415 / 3Φ
415 / 3Φ
415 / 3Φ
415 / 3Φ
415 / 3Φ
415 / 3Φ
Rated duty cycle
%
50
50
50
50
50
50
50
50
Frequency
Hz
50/60
50/60
50/60
50/60
50/60
50/60
50/60
50/60
Maximum short current (duty cycle)
kA
20 (3.8%)
36 (3.0%)
56 (4.9%)
20 (3.8%)
36 (3.0%)
56 (4.9%)
76 (6.9%)
94 (10%)
Continuous output current
kA
3.9
6.2
12.4
3.9
6.2
12.4
19.9
29.9
Maximum pressure
N
5200
12000
12000
5200
12000
12000
30000
30000
Open width X depth(spot)

(projection)

mm
200X600
170X400
165X425
200X425
225X450
225X450
mm
170X300
165X300
200X300
225X450
225X450
Electrode travel
mm
20/60
20/80
20/60
20/80
Water flow
L/mm
15
18
28
15
18
28
28
34
Weld capacity (MS)/(AL)
mm
3+3
6+6
8+8
3+3
6+6
8+8
mm
1+1
2+2
3+3
1+2
2+2
3+3
6+6
8+8
Weight
Kg
215
380
620
215
380
620
1050
1100
Technical specification of MF DC Inverter Spot