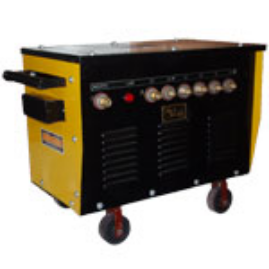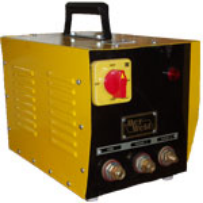 Features
MET-WELD AC welding transformer used as a power source for manual metal arc light, medium and
heavy structural and general purpose maintenance fabrication work.
These machines used as a power source for Gas Tungsten Arc welding (TIG) of aluminium magnesium and
their alloys. Step less, smooth and variable current regulation by moving core shunt design. Adjustment of
welding current feasible even while welding is in progress, this enables fine current control.
Higher OCV in especially with these models enables welding of low hydrogen type for AC application. Higher
OCV enables used of longer cable and lead length and ensure easy arc striking. Low losses because of high
grade silicon stampings and electrolytic grade conductor used. Light weight and compact design in these
models. Ideal use in automobile garages, light fabrication and small scale industries. Adjustment of welding
current gives in steps.
| PARAMETERS | MTS-150 (Stud Type) | MTS-200 (Stud Type) | MTS-250 (Stud Type) | MT-300 (Stud/Regulator) | MT-400 (Stud/Regulator) | MTR-600 (Regulator) |
| --- | --- | --- | --- | --- | --- | --- |
| Supply Voltage | 230 / 415V | 230 / 415V | 230 / 415V | 230 / 415V | 230 / 415V | 230 / 415V |
| Phase | 1 or 1/2 | 1 or 1/2 | 1 or 1/2 | 1 or 1/2 | 1 or 1/2 | v1 or 1/2 |
| Frequency | 50 Hz AC | 50 Hz AC | 50 Hz AC | 50 Hz AC | 50 Hz AC | 50 Hz AC |
| Welding Current Range | 50-150 A | 50-150 A | 50-150 A | 50-150 A | 50-150 A | 50-150 A |
Technical specification of Manufacture of MET-Arc Brand Welding & Cutting Equipments