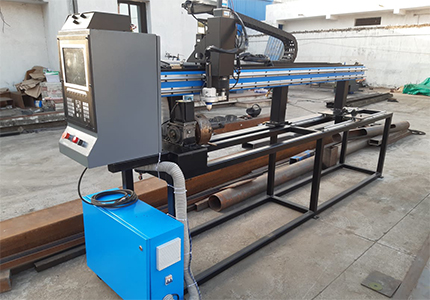 According to customer demand computer programming cutting
CNC Cutting Machine is a kind of automatic cutting equipment which is combined CNC system, precise mechanical drive and air cutting technology. It is widely applied to manufacture and cutting steel field, such as, the ship building industry, steel construction, construction machinery, mining machinery, pressure vessel and vehicle, petrochemical, etc.
The machine includes the cross beam, trolley, longitudinal rails, CNC system, moving system and electric system, etc. For the driving mode, if the track span is less than 4m, the Gantry CNC Cutting Machine is single drive, if over 4m, it is double drives. In order to ensure the stability of machine under rapidly running, we use the heavy trolley for the Gantry Cutting Machine which equipped High-performance plasma power sources or its track span over 6 meters. With automatic correction function to keep the long-term working precision.
Product features
Working stability, high frequency interfere effectively plasma, lightweight portable.
Support two cutting ways of flame and plasma
Economic benefits, the structure and design is contracted. it adopts humanistic Positive man-machine conversation and operate easily
Cutting with high quality, high effect level, high precision
Pre-sale will train and after-sale will track service
We appreciated that if you can supply following details, so we can give you more useful suggestion
The cutting size (width*length)?
The minimum and maximum cutting thickness?
Cutting material is mild steel or stainless steel?
The material shape is metal sheet, or metal plate, or proximate matter, or steel pipe?
Standard Model List of Gantry CNC Cutting Machines
Track Span(m)
3.5
4
5
5.5
6
8
10
Rail length(m)
12
12
14
14
14
16
16
Every the length of rail is 2m,Can be lengthened according to Users demand.
Torch No.
1 oxy-fuel torches as standard.Torch quantity can be customized.1 plasma torch.Double plasma torches can be customized.
Max cutting Area
2.6*10
3.1*10
4.1*12
4.6*12
5.1*12
7.2*14
9.2*14
Cutting thickness
1-64mm Depends on plasma power capacity (Plasma)5-300mm by oxy-gen gas cutting
Driving Mode
Single driving
Dual driving(Panasonic or fugi servos,
CNC system
ADTECH or HYD controller
Program software
FastCAM or MOST 2D
Speed Range
0~10000mm/min
Cutting gas
Oxygen+acetylene/LPG; plasma cutting gas depends on plasma import gas pipe
Option
Oxy-fuel: Auto-ignition, capacitive height control,
Plasma: Auto arc voltage THC.
Technical specification of CNC Plasma Cutting Machines